Curiosity Driven

Layout | Concept development | Exhibit design

The interstate system in the United States is a commonly accepted and understood application of design in modern society. By combining my passion for adventure throughout the United States, and my love of design, layout, and typography, I have launched an in-depth exploration of how these elements can live and work together.

Exhibit display reinforces how t

he United States Interstate System is dense enough, expansive enough, and interconnected enough to illustrate the outline of the continental United States, with the added ability of showing the contrasting geographic areas within the country. Connected to the large map installation is a set of three booksters (booklet/poster hybrid) that convey the history of the system, my personal inspiration, and a call to action.

​'Curiosity Driven' summarizes not only who I am and what drives me, but also reflects the concepts of space, line, scale, typography, and conceptual thinking that have been instilled in my during my time as a design student.
Powered by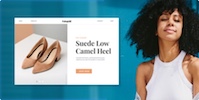 Create your own unique website with customizable templates.