"
You exceeded our expectations ... and have done some really outstanding and valuable work...
​you are a women's leader already.

"
In a very short time, and despite her newness to the corporation, Christina built strong, collaborative relationships inside and outside the design team. These close collaborations allowed her to work with a variety of functions and begin to understand the wide range of ways that work gets done at 3M. She collaborated with corporate marketing, branding, events, facilities, vendors, design, women's leadership and others.

"
Christina is an amazing natural leader, strong strategic thinker and wonderful collaborator.
I am so pleased to have had the opportunity
​to work with her.
Powered by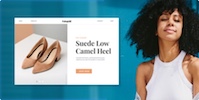 Create your own unique website with customizable templates.